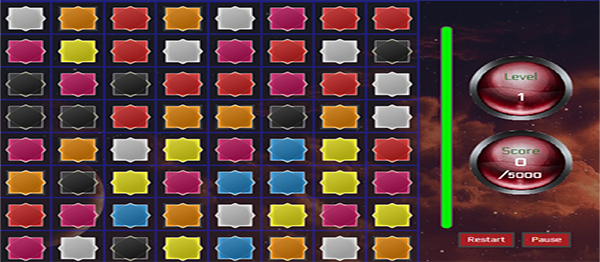 Project: Bejeweled Canvas Game In JavaScript
-To download bejeweled canvas game project for free(Scroll Down)
This is as a simple javascript project. This game is quite similar to the candy crush game, where you match the candies to get points. Play the game and enjoy it.
About Gameplay
Bejeweled canvas game is a puzzle game that takes the form of a grid of 8 squares out of 8 containing stones of different colors. The goal of the game is to group them by color in groups of 3 or more.
When falling, it is possible that gems of the same color line up. It causes a chain reaction which gives you bonus points. The more channels in a row, the more points you will earn. After a number of channels, you will see appear on your grid a bonus item, a bomb that will allow you to destroy all the gems around. You have 3 minutes to reach the number of points required at each level.
You will have lost the game if you are unable to finish the level in the allotted time, or if no more combination is possible on your grid. If you are stuck at one level, do not panic, a clue will be offered after some time of inactivity.
DOWNLOAD BEJEWELED CANVAS GAME IN JAVASCRIPT WITH SOURCE CODE FOR FREE: CLICK THE BUTTON BELOW
Thank you very much for your visiting in our simple blog, share tutorial and programming coding. Hope this blog will help you in fixing your coding problem.
source : code-projects.org