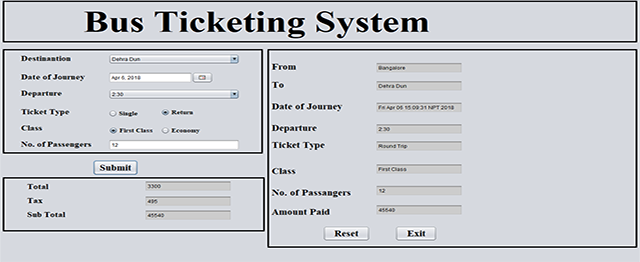 Project: – Bus Ticket Calculator in Java and Netbeans
-to download it for free(Scroll Down)
Bus ticket calculator is a simple java project. This project helps to calculate the ticket fare of the bus ticket while you wish to travel a long distance. It will calculate the tax amount and road amount and total passenger number and gives you the detail about the ticket fare. Also, in this project, you can select the type of ticket you want to get like the First Class or Economy class. Also, you can select the ticket mode that is whether you want to return with the same bus or not.
TO DOWNLOAD BUS TICKET CALCULATOR IN JAVA AND NETBEANS WITH SOURCE CODE FOR FREE CLICK THE BUTTON BELOW:
Thank you very much for your visiting in our simple blog, share tutorial and programming coding. Hope this blog will help you in fixing your coding problem.
source : code-projects.org