This time I will share jQuery Plugin and tutorial about Customizable SEO-Friendly Tabs Plugin – jquery-tab, hope it will help you in programming stack.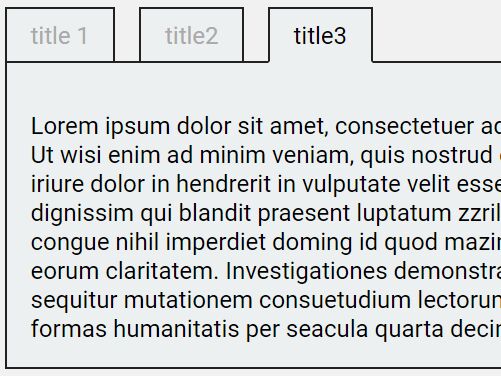 | | |
| --- | --- |
| File Size: | 186 KB |
| Views Total: | 2819 |
| Last Update: | |
| Publish Date: | |
| Official Website: | Go to website |
| License: | MIT |
| | |
jquery-tab is a jQuery plugin used to create highly customizable tabs from semantic HTML markups that can be used to switch between different sections of content on the web page.
More features:
Tons of configuration options.
Easy to style via CSS.
No link element needed.
Search engine friendly for original content.
Dynamic tab creation.
Custom trigger events: click or hover.
Keeps current selected index in URL hash, so that it can be restored after page refersh.
How to use it:
1. Load the main stylesheet and default skin CSS in the document.
2. The basic HTML structure. The plugin will look for heading elements within the main container and converts them into tabs.
3. Call the plugin on the container and done.
4. Available options (with default values) to customize the tabs plugin.
5. API methods.