This time I will share jQuery Plugin and tutorial about Highly Customizable Custom Overlay Scrollbar Plugin With jQuery, hope it will help you in programming stack.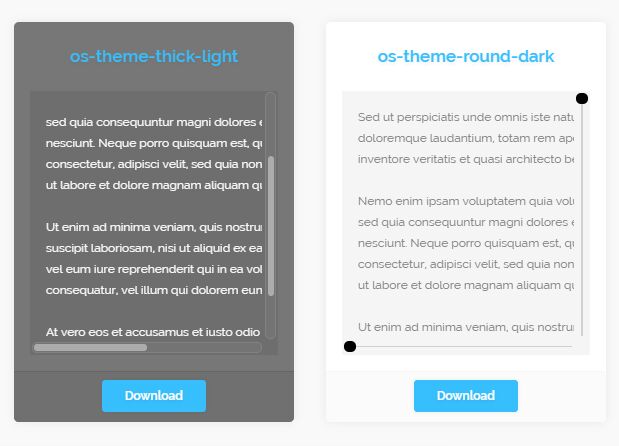 | | |
| --- | --- |
| File Size: | 755 KB |
| Views Total: | 14062 |
| Last Update: | |
| Publish Date: | |
| Official Website: | Go to website |
| License: | MIT |
| | |
The jQuery OverlayScrollbars plugin provides a simple way to create customizable, themeable overlay scrollbars on any scrollable element while preserving the native scroll functionality.
The DOC of vanilla JS version is available here.
Features:
Touch-enabled.
RTL supported.
CSS3 animated.
Cross browser.
High performance.
Basic usage:
1. Include the main stylesheet and a theme CSS of your choice on the head section of the webpage.
2. Include both jQuery JavaScript library and the jquery.overlayScrollbars.js script on the page.
3. Call the function on the target scrollable element and specify the theme Class you want to use. Available themes:
os-theme-dark: built-in
os-theme-light: built-in
os-theme-minimal-dark
os-theme-minimal-light
os-theme-thin-dark
os-theme-thin-light
os-theme-thick-dark
os-theme-thick-light
os-theme-round-dark
os-theme-round-light
os-theme-block-dark
os-theme-block-light
4. More configuration options to customize the scrollbars.
5. Callback functions.