This time I will share jQuery Plugin and tutorial about Multiple Select With Filter And Checkboxes Using jQuery, hope it will help you in programming stack.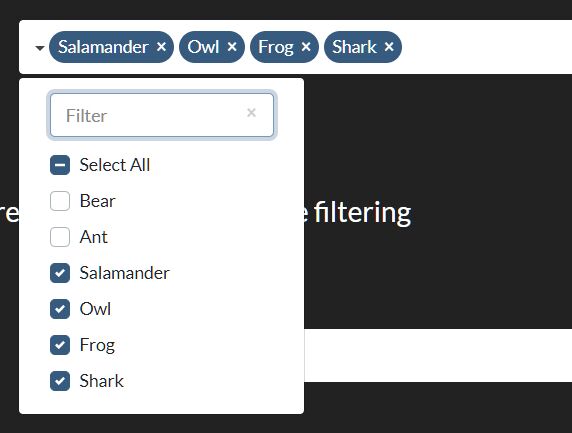 | | |
| --- | --- |
| File Size: | 158 KB |
| Views Total: | 3066 |
| Last Update: | |
| Publish Date: | |
| Official Website: | Go to website |
| License: | MIT |
| | |
A jQuery plugin that converts a normal select box into a user-friendly filterable multi-select dropdown where your users are able to select one or more options by checking checkboxes.
Licensed under the LGPL-2.1 License.
More Features:
A ROOT checkbox that allows you to select all options with a single click.
Compatible with the latest Bootstrap 4.
Allows to append more options to the select dropdown via JavaScript.
Keyboard accessibility.
Especially suitable for tags input that enables the user to select tags from a predefined list.
How to use it:
1. Load jQuery library (required) and Bootstrap's stylesheet (optional but recommended) in the document.
2. Load the filter-multi-select plugin's JavaScript and Stylesheet in the document.
3. Create a basic filterable multielect dropdown by simply attaching the function filterMultiSelect to the existing select box with the multiple attribute:
4. You can also add options to the multielect dropdown via JavaScript.
label: Lable text
value: Option value
selected: Is selected?
disabled: Is disabled?
5. Available options to customize the multielect dropdown.
6. API methods.
Changelog:
v1.1.0 (2021-03-11)
Append the class filter-multi-select to select elements and have the plugin be applied automatically.
Or define your own selector in $.fn.filterMultiSelect.selector.
Access all element groups applied by the plugin in $.fn.filterMultiSelect.applied.
About Author:
Author: Andrew
Website: https://github.com/andreww1011/filter-multi-select
---