This time I will share jQuery Plugin and tutorial about Responsive Youtube Video Gallery Plugin – jQuery YouRam, hope it will help you in programming stack.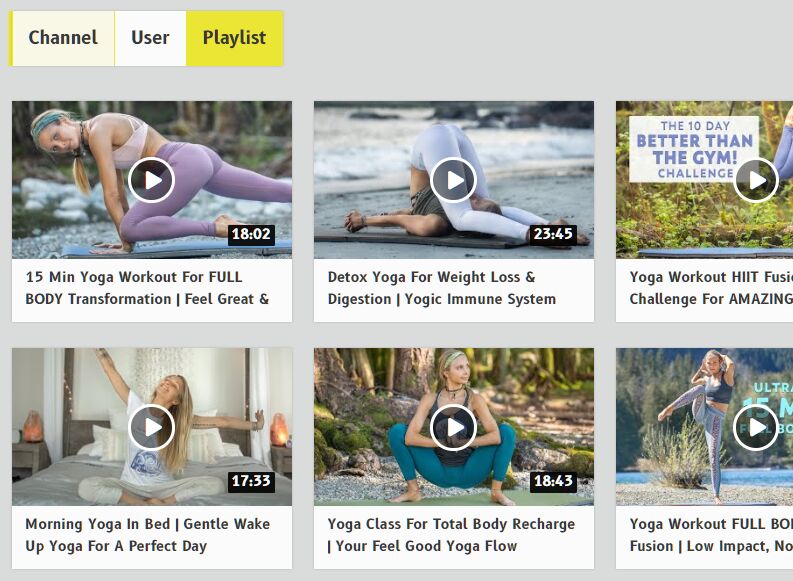 | | |
| --- | --- |
| File Size: | 247 KB |
| Views Total: | 4010 |
| Last Update: | |
| Publish Date: | |
| Official Website: | Go to website |
| License: | MIT |
| | |
YouRam is a jQuery plugin that helps you generate a responsive Youtube video gallery from any Youtube Channel, User, or Playlist.
Clicking any video thumbnail in the gallery will open and play the Youtube video in a lightbox popup. Users are also able to switch between videos by clicking the prev/next buttons.
The plugin also provides a cache functionality to avoid multiple API calls to YouTube. Cached data is saved inside the plugin folder on your server.
More Features:
Limits the max number of videos to display.
Provides a Load More button to load more videos into the gallery.
Custom loading indicator & loading text.
Custom Play icon and hover animation.
How to use it:
1. Download and upload the following folders to the server.
2. Load the necessary JavaScript and CSS files in the document.
3. Create a container element to hold the Youtube video gallery.
4. Call the function on the container, insert your Youtube API Key, and define an array of YouTube playlist or channel links separated by comma.
5. Determine the max number of videos to display on page load.
6. Determine the display mode: popup, inline, or link.
7. Customize the appearance of the Youtube video gallery.
8. Customize the responsive breakpoints.
9. Cache options.
10. Hiding options.
11. More customization options.