This time I will share jQuery Plugin and tutorial about Smart Sticky Header Hamburger Navigation Plugin – jQuery mhead, hope it will help you in programming stack.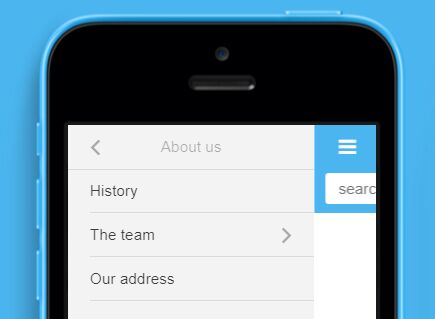 | | |
| --- | --- |
| File Size: | 93.1 KB |
| Views Total: | 11615 |
| Last Update: | |
| Publish Date: | |
| Official Website: | Go to website |
| License: | MIT |
| | |
mhead is a jQuery plugin used to create a sticky header hamburger navigation for your web application that auto shows/hides as you scroll/swipe the page down or up.
Liccensed under the CC-BY-4.0 license.
How to use it:
1. The plugin depends on jQuery library and jQuery mmenu plugin.
2. Load the mhead plugin's JS and CSS files in the document.
3. Load the latest Font Awesome for the navigation icons.
4. Create the header navigation bar with the following CSS classes:
.mh-head: required
.mh-size-2/3: enlarges the header nav two or three times
.mh-align-left/right: aligns the text or logo to the left or right.
.mh-btns-left/right: aligns the toggle button to the left or right.
.mh-btns-2/3-left/right: enlarges the toggle button two or three times
.mh-hamburger: transforms the toggle button into a hamburger button
.mh-text: header text
.mh-list: scrollable list
.mh-form: search field
.mh-logo: site logo
.mh-image: background image
5. Inert your own menu items to the navigation.
6. Initialize the plugin with default settings and we're done.
7. All default settings to customize the header navigation.
Changelog:
2020-08-18
2018-06-13
---
This awesome jQuery plugin is developed by FrDH. For more Advanced Usages, please check the demo page or visit the official website.