This time I will share jQuery Plugin and tutorial about Spectragram – Fetch and Display Instagram Feeds, hope it will help you in programming stack.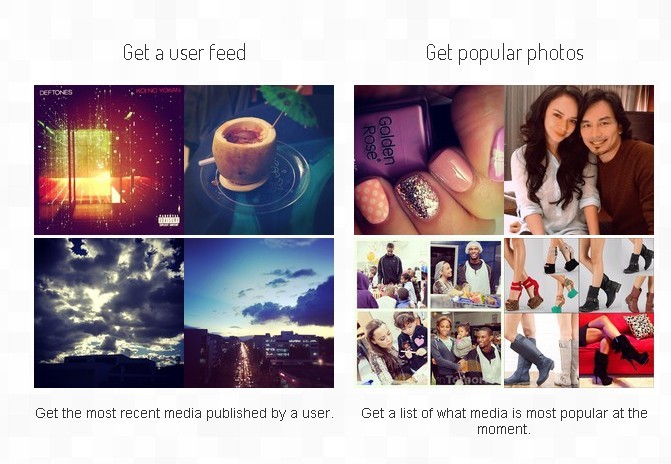 | | |
| --- | --- |
| File Size: | 13.3 KB |
| Views Total: | 11107 |
| Last Update: | |
| Publish Date: | |
| Official Website: | Go to website |
| License: | MIT |
| | |
Spectragram is an easy jQuery plugin for Instagram API to get the most recent media published by a user.
How to use it:
1. Include jquery script and spectragram.js
2. Set your Instagram accessToken.
3. Call the spectagram function on the container element in which you want to display the Instagram feeds.
4. Specify the max number of Instagram photos to display. Default: 25.
5. Specify the size of Instagram photos: 'small', 'medium' or 'large' (default).
6. Determine the HTML element to hold Instagram photos. Default: '<li></li>'.
7. Execute a callback function after all photos are fetched & displayed.
Changelog:
2019-02-04
v2.0.0: Upgrades Instagram API
2019-02-04
v1.1.1: Retire getRecentTagged method
2018-04-16
v1.1.0: Remove deprecated endpoints and functions
2016-02-29
v1.0.3: Improve image html and fix empty wrap issue
2016-02-22
v1.0.1: improve message handling.
2015-09-02
Bug fix for title truncation when it contains single quotes.
2015-03-12
Bug fix for title truncation when it contains single quotes.
2013-11-13
use access_token instead of client_id for getUserFeed.
Fixes a issue of Uncaught TypeError: Cannot read property 'length' of undefined
---
This awesome jQuery plugin is developed by adrianengine. For more Advanced Usages, please check the demo page or visit the official website.