This time I will share jQuery Plugin and tutorial about Sticky Notification Bar In jQuery – notificationBanner, hope it will help you in programming stack.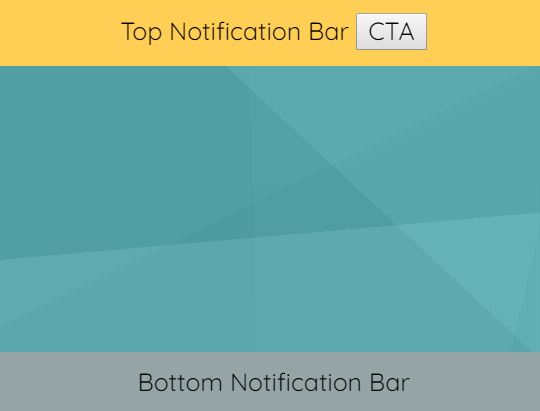 | | |
| --- | --- |
| File Size: | 5.1 KB |
| Views Total: | 2407 |
| Last Update: | |
| Publish Date: | |
| Official Website: | Go to website |
| License: | MIT |
| | |
notificationBanner is a small (less than 1kb) yet configurable jQuery plugin to create banner-style notification bars that will be fixed on the top or bottom of the webpage.
Smooth & performant slide in/out animations based on CSS3 transition and transform properties.
Ideal for informational messages, cookies/GRPR notices, discount information, etc.
How to use it:
1. Insert the minified version of the notificationBanner plugin after loading jQuery library (slim build is recommended).
2. Create an empty container to place the notification bar.
3. The JavaScript (jQuery script) to create a basic notification bar displayed at the bottom of the webpage.
4. Stick the notification bar to the top of the webpage.
5. The plugin also supports HTML content in the notification bar. For example, you can insert a custom action button inside the notification bar.
6. Customize the appearance (height, width, padding, background color) of the notification bar.
---
This awesome jQuery plugin is developed by MANOJMANI07. For more Advanced Usages, please check the demo page or visit the official website.
source : jquery.net