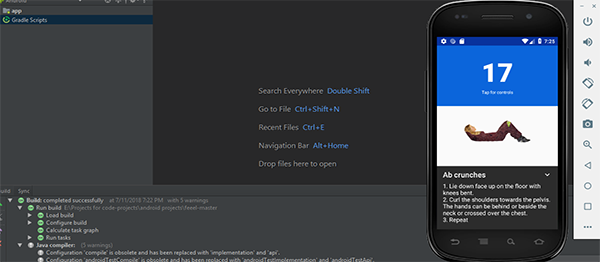 Project- Gym Workout Planner In Android
-To download gym workout planner project for free(Scroll Down)
Gym workout planner is an Android project. It helps the user to perform the gym session workout at home with ease. To assist the user set of tasks are there in the project with an audio assistant. To run the project you will need Android Studio. So before you run the project make sure that you have Android Studio on your computer.
About the project
Gym workout planner assists you with the gym methods for working out at home. A set of tasks are provided in the program. Each task is up to 30 seconds. Also, an audio assistant will help you to perform the set task after each task is finished in 30 seconds. The project is simple to understand. Moreover, the project is made in Kotlin, the programming language for the Android Studio.
In order to run the project, first, install Android Studio. Then import the project from the studio's homepage. Your project set up will automatically start. All the Gradle build files will automatically install inside your project root directory. Open the project and set up your virtual device and run the emulator. Hope you will enjoy the project.
Be Alert
This whole project is developed in Android studio. Here java programming language is used for the field validation and also XML language for the transferring of data. This project keeps asking you about the plugins update so keep your internet alive. And moreover, you will need to update your SDK version and also you have to update your instant run plugins.
To check the demo of this project please check the image slider. Hope you like this project.
DOWNLOAD GYM WORKOUT PLANNER IN ANDROID WITH SOURCE CODE FOR FREE: CLICK THE BUTTON BELOW
Thank you very much for your visiting in our simple blog, share tutorial and programming coding. Hope this blog will help you in fixing your coding problem.
source : code-projects.org