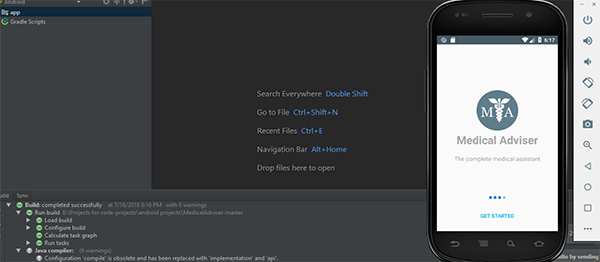 Project: Medical Adviser Application In Android
-To download Medical Adviser Application project for free(Scroll Down)
Medical Adviser application is an Android project. It helps the user to get medical information about a different physical health condition. To run the project you will need Android Studio. So before you run the project make sure that you have Android Studio on your computer.
About the project
The app facilitates the user with the medical help online providing drug and medical information to the person. Also, this app allows you to track any kind of blood donation programs around you. You just have to enter the details as asked in the program and you have to hit the search button.
In order to run the project, first, install Android Studio. Then import the project from the studio's homepage. Your project set up will automatically start. All the Gradle build files will automatically install inside your project root directory. Run the project and set up your virtual device and run the emulator.
Be Alert
This whole project is developed in Android studio. Here java programming language is used for the field validation and also XML language for the transferring of data. This project keeps asking you about the plugins update so keep your internet alive. And moreover, you will need to update your SDK version and also you have to update your instant run plugins.
To check the demo of this project please check the image slider. Hope you like this project
DOWNLOAD MEDICAL ADVISER APPLICATION IN ANDROID WITH SOURCE CODE FOR FREE: CLICK THE BUTTON BELOW
Thank you very much for your visiting in our simple blog, share tutorial and programming coding. Hope this blog will help you in fixing your coding problem.
source : code-projects.org