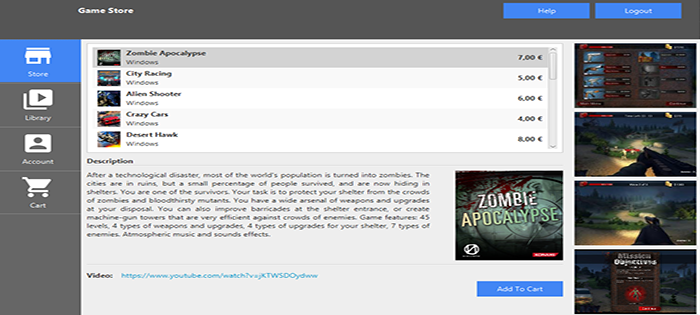 Project: Mini Game Store In Java
-To download the mini game store project for free(Scroll Down)
The mini-game store is a simple game managing project. Java programming language and Netbeans are its core elements for its completion. Also, this project uses the SQLite database as backend support for storing the user and game information. In order to run this project, you will require NetBeans/Eclipse IDE and XAMPP/WAMP.
ABOUT THE SYSTEM
The name quite explains the scenario of this mini project. That is the purpose of this project. The major task of this project is to store the user record. You will provide the details of each and every section of the data fields. So that the system can store your accurate information. Once you log in to the system you can buy games you want to play. There are some premeditated games for the user. Here, you can select the game you want to purchase. From the vault, you can add games to the cart and later you can purchase them with your credit card. Once you buy the game you can click the game image and you will be redirected to the official game site and see the game demo. Here the major works are done by the user.
To check the project you can see the image sliders below. Also, we recommend you to use the NetBeans or Eclipse IDE to tun this project.
DOWNLOAD MINI GAME STORE IN JAVA WITH SOURCE CODE FOR FREE: CLICK THE BUTTON BELOW
Thank you very much for your visiting in our simple blog, share tutorial and programming coding. Hope this blog will help you in fixing your coding problem.
source : code-projects.org