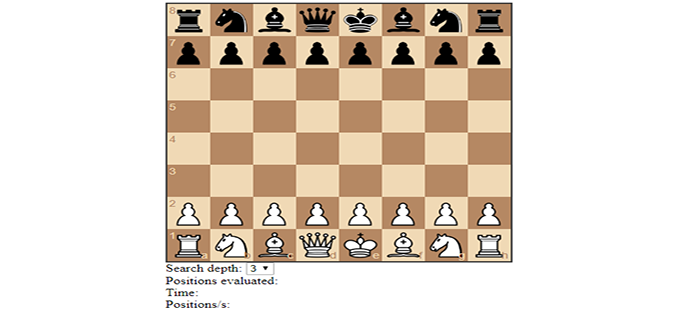 Project: Simple AI Chess Game In JavaScript
-To download Simple AI Chess Game project for free(Scroll down)
This is a simple AI based chess game fully developed in JavaScript and HTML5 adding CSS to give it a nice looking and finishing touch. This project is validated with javascript and jquery. Here the user can edit this source code as according to their wish and also use the real set pieces of the chess.
About Gameplay
The gameplay is simple for this game. Here you are the player and you will play against the computer. You can change the difficulty level by selecting the depth mode in the game. You can see the moves you made against the computer below the chess board.
To run this game you will need a browser installed on your system . Download and open this project in your code editor. Then there is an index.html file which you can modify. Run that file in your command prompt or you can directly run the index file. Use Google Chrome or FireFox for better user experience. Also, this is a multi-player game, both of the players being humans.
This game consists of a lot of JavaScript validations. This game is fun to play and even fun if you can modify it with a little bit of CSS.
In whole this project uses a lot of javascript and javascript libraries. If you can add some more levels then you can surely enhance your javascript skills with its libraries. This Game in Javascript with source code is free to download. Use for educational purpose only!
DOWNLOAD SIMPLE AI CHESS GAME IN JAVASCRIPT WITH SOURCE CODE FOR FREE: CLICK THE BUTTON BELOW
Thank you very much for your visiting in our simple blog, share tutorial and programming coding. Hope this blog will help you in fixing your coding problem.
source : code-projects.org