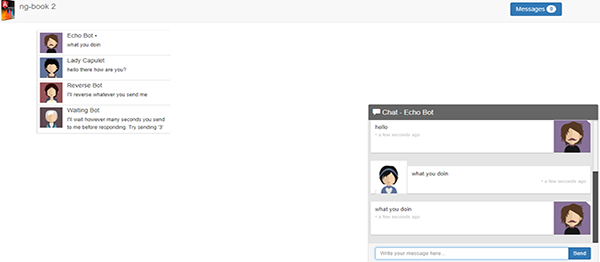 Project: Simple Chat System In AngularJs
-To download a simple chat system project for free(Scroll Down)
The simple chat system is an Angular 2 project. The whole system is in Javascript programming language with an AngularJs framework. This project needs internet to work effectively. AngularJs version 2.0 framework is used.
About The System
This is a simple chat forum in AngularJs framework. Here one can have chat with the dummies user. There are basically four users in this system including you. One of the dummies returns the echo of whatever you say to them. The other will just reverse whatever you say to them. Each and every dummy has their name as a user for the chat. One of the dummies will wait for your message and will give you a response in a specific time.
As a whole, we can say that this is a simple project for the beginners in the angularjs framework. If you want to make it a real-time chat system, then you can implement some SocketJs code. It simply allows you to give your system multiple port connection for the same program. When you write the SocketJs program you can have the option to create the multiuser system.
DOWNLOAD SIMPLE CHAT SYSTEM IN ANGULARJS WITH SOURCE CODE FOR FREE: CLICK THE BUTTON BELOW
Thank you very much for your visiting in our simple blog, share tutorial and programming coding. Hope this blog will help you in fixing your coding problem.
source : code-projects.org