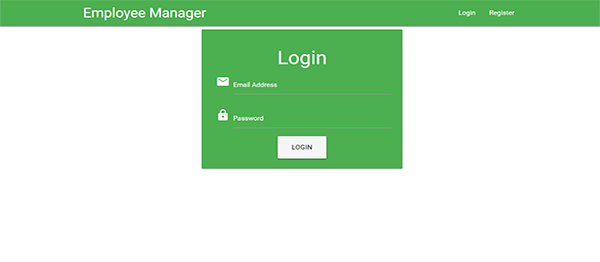 Project: – Simple Employee Manager in VueJs
-To download a simple employee manager project for free(Scroll Down)
A simple employee manager is a simple information keeping javascript application. This application allows you to perform the CRUD operations in it. The whole system contains Vue Framework. Vue is a popular Javascript framework for front-end designs. With Vue framework, you can create some elegant looking UI for your projects.
About The System
Talking about the system, this allows you to keep the information about your employees. Here, you can add and delete the employee you want. You can assign them to their jobs and departments. The whole application is from the admin side. The admin is the main controller in this application. Before you assign the employees, you have to register yourself. To register, click the register button and add your dummy email and password. After that, you can use those credentials to log into the system.
When you run and serve the localhost you can see the admin dashboard. From there you can easily view your list of employees. Also, you can see a little add icon button below at the bottom right of the screen. From there you can add your employees. You have to enter the specified details of the employees. You can assign them to the department you want them to work.
How to run??
First, you need to download and install Node.js. After installing Node.js, all you have to do is just follow the commands which are inside the readme.txt file.
DOWNLOAD SIMPLE EMPLOYEE MANAGER IN VUEJS WITH SOURCE CODE FOR FREE: CLICK THE BUTTON BELOW
Thank you very much for your visiting in our simple blog, share tutorial and programming coding. Hope this blog will help you in fixing your coding problem.
source : code-projects.org