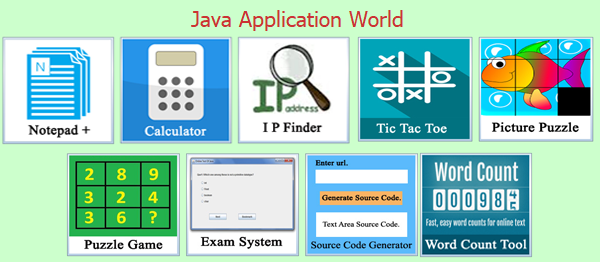 Project: Simple Java Program
-To download simple java program collection project for free(Scroll Down)
Simple Java Program collection is a Java project. This project contains six different java made applications or Java programs. Notepad, Puzzle, Tic Tac Toe, Word Counter, quiz, and IP finder. This is a single frame program. You can select and run whichever program you wish to run. To run this project you must have Eclipse IDE.
About The Project
This collection of different Java applications makes this project unique. Here you can select the program you want to run. If you want to run Notepad, you can simply click the option in the application. In notepad, you can do the writing stuff with ease. You can process whatever text styles you want.
Also, this project consists of games and quizzes. Like Tic-Tac-Toe and puzzle game. Word Count project is also available here. You can type as much text as you want and later you can count how many words are there in your paragraph. IP address finder will help you to locate your IP address. You can enter any URL and it will locate your IP address.
To run the project download and install Eclipse IDE. To see a demo for this project you can check our image sliders.
Project Demo
DOWNLOAD SIMPLE JAVA PROGRAM COLLECTION IN JAVA WITH SOURCE CODE FOR FREE: CLICK THE BUTTON BELOW
Thank you very much for your visiting in our simple blog, share tutorial and programming coding. Hope this blog will help you in fixing your coding problem.
source : code-projects.org