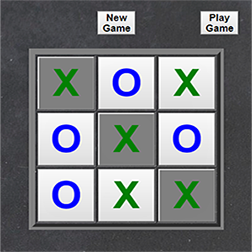 Tic Tac is a simple Two Player Game created using JavaScript and 2D array used with HTML & CSS used.
It's Simple to play. At first, Enter Player 1 name and then player 2.
Player 1 will tick "X" sign and player 2 will tick "O". And the Childhood Game Begins..Enjoy!!
For the project demo, you can have a look at the video below:
Download Tic Tac Game Using JavaScript Source Code Free:
Thank you very much for your visiting in our simple blog, share tutorial and programming coding. Hope this blog will help you in fixing your coding problem.
source : code-projects.org