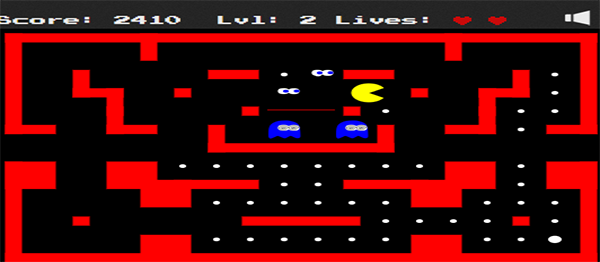 Project: Canvas Pacman Game In JavaScript
-To download Canvas Pacman game project for free(Scroll Down)
Canvas Pacman game in javascript is a simple HTML5 and JavaScript project. To run this project, you will Visual Studio Code, since the game requires a live server to load the game. As the name clears the what the project is about. This project is the remake of the previous old game in HTML5 and ES6.
About The Project
This project contains various files and libraries within it. JSON files and web manifest files are also included in this project so that it runs smoothly. This game is very much addictive and mood refreshing.
In the gameplay, the player navigates the Pac-Man through the maze. The maze contains various dots and ghosts named as Blinky, Pinky, Inky, and Clyde. The goal is to eat all those dots in the maze. The ghosts will run around the mazes and try to kill Pac-Man. The control is the arrow keys in this gameplay.
DOWNLOAD CANVAS PACMAN GAME IN JAVASCRIPT WITH SOURCE CODE FOR FREE: CLICK THE BUTTON BELOW
Thank you very much for your visiting in our simple blog, share tutorial and programming coding. Hope this blog will help you in fixing your coding problem.
source : code-projects.org