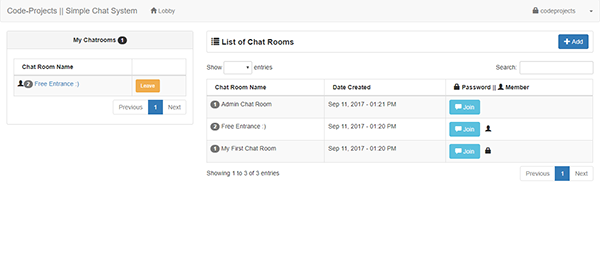 Project: Chat System
– To Download It For Free (Scroll Down)
Features :
Login/Register System
List of chatrooms
Edit Account
Admin Panel
Create & Edit Chatrooms
Create chatroom passwords
Here, User has to login/sigup to access the system. User can easily enter chatroom and start conversations, some of the chatroom might contain password to enter. Well that depends upon the admin. Admin has the full control, admin can create, edit chatroom anytime they want. Admin can also edit their users.The design of this project is pretty simple and user won't find it difficult to understand, use and navigate.
How To Run?
You'll need XAMP Server or WAMP Server. Put the file inside "c:/wamp/www/" or "c:/xampp/htdocs/". Go To "localhost/phpmyadmin" in any browser and create Database (name according to SQL file).In that Database, Import the SQL file and finally go to URL: "http://localhost/file_name/phpfilename"
Don't Forget To create a database and import SQL file to run.
DOWNLOAD CHAT SYSTEM USING PHP WITH SOURCE CODE : CLICK THE BUTTON BELOW
Thank you very much for your visiting in our simple blog, share tutorial and programming coding. Hope this blog will help you in fixing your coding problem.
source : code-projects.org