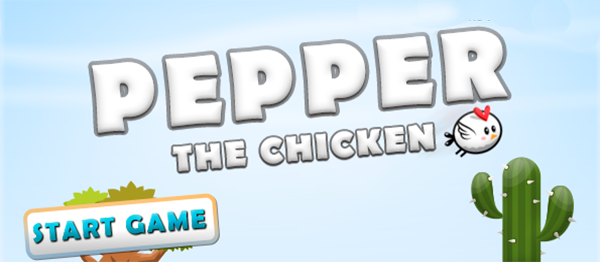 Project: Chicken Run Game In JavaScript
-To download the chicken run game in javascript with source code for free(Scroll Down)
The chicken run game is a javascript project. This is a simple and entertaining game you could probably have in your bucket list. This game contains mainly javascript and some CSS for making it look beautiful. This game is quite similar to the dino runner, the famous google chrome offline game.
Gameplay
The gameplay is simple and is very much interesting. All you have to do is the control your and make a jump over the obstacles. The chicken's name is "Pepper". Here you have to make pepper jump and try to avoid the coming threats. The control keys are W, or spacebar or the up arrow key. When you keep progressing the game, the game speed will generally increase at a greater rate. Try to jump higher by pressing the control buttons so that Pepper can jump much higher to avoid the obstacles. When you end up hitting the obstacle you can finally view your score. Also, you can share your score on the social media.
Overall the game is quite fun to play. Moreover, as a programmer, it allows you to enhance your program writing ability with more ease and perfection by somehow. This game is purely made in javascript. No any sort of frameworks is used in the development of the game.
You can check our project by looking at the image slider below
DOWNLOAD CHICKEN RUNNER GAME IN JAVASCRIPT WITH SOURCE CODE FOR FREE: CLICK THE BUTTON BELOW
Thank you very much for your visiting in our simple blog, share tutorial and programming coding. Hope this blog will help you in fixing your coding problem.
source : code-projects.org