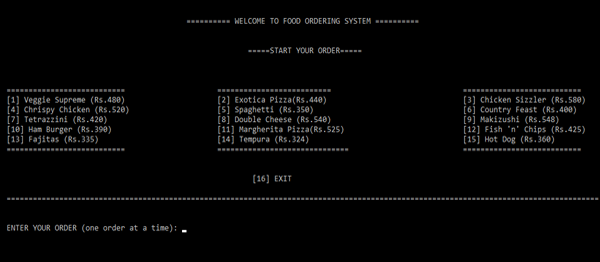 Project: Food Ordering System In C++ with source code
– To download Food Ordering System project for free (scroll down)
About System
Food Ordering System is based on a concept of ordering food items and generating total food cost. Before stepping into the main system a user has to pass through a login system to get access, he/she should provide login id and if the login id matches then the user has to provide a password to continue. Then the user can make an order by selecting from the main menu. This mini project contains limited features, but the essential one.
Talking about the features of the food ordering system, after logging in as a user the system displays a menu of total 15 food items with their prices and the user has to select any of them to order. There should be one order at a time. After selecting an order the system asks whether to update the order or not, then proceeds to the quantity of that item. After all these the system saves the order and asks whether to add another order or not. Then the system generates the bill for the customer. At last, a bill receipt is displayed with the bill number, order number, cashier name and the total bill amount in rupees.
This program should be run in Full-screen mode as the design and content gets affected in a Small screen, all the content gets messed with a small screen. So, we recommend you to run in Fullscreen only. Food Ordering system is developed using C++ Programming Language and different variables, strings have been used for the development of it. Food Ordering System in C++ Programming is free to download with source code. Use for educational purposes only! This project provides the simplest system for managing food orders in a restaurant.
In order to run the project, you must have installed Dev C++ or Code Blocks on your PC. (we recommend these IDE). For the project demo, have a look at the image slider below.
Project Demo
Features:
Login System
Food Selection
Bill receipt
LOGIN DETAILS ARE PROVIDED IN "Readme.txt" FILE INSIDE PROJECT FOLDER
RUN IN FULL-SCREEN MODE ONLY!
DOWNLOAD FOOD ORDERING SYSTEM IN C++ WITH SOURCE CODE: CLICK THE BUTTON BELOW
Thank you very much for your visiting in our simple blog, share tutorial and programming coding. Hope this blog will help you in fixing your coding problem.
source : code-projects.org