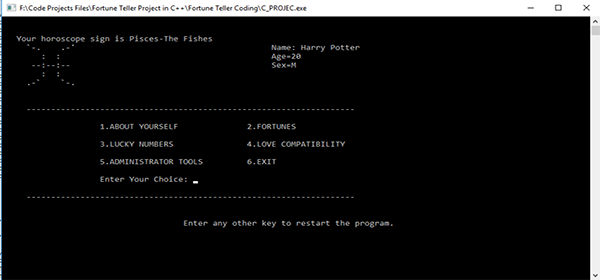 Project : Fortune Teller
This Project is a console application, designed to determine the horoscope and predict future based on your Date of Birth, name entered. And also describes about your love life, your lucky number, lucky colors, your future and many more. Predictions & calculations are based upon astrological configuration that occurred at time of birth information provided.
Features :
This application determines your horoscope & predicts your future, lucky number etc.
If you know horoscope of your partner you can easily check love compatibility.
This Programs asks input for your exact horoscope and Age.
Project demo
DOWNLOAD FORTUNE TELLER IN C++ SOURCE CODE HERE : CLICK THE BUTTON BELOW
Thank you very much for your visiting in our simple blog, share tutorial and programming coding. Hope this blog will help you in fixing your coding problem.
source : code-projects.org