This time I will share jQuery Plugin and tutorial about Dynamic Scrollable Sortable Table In jQuery – tableScroller, hope it will help you in programming stack.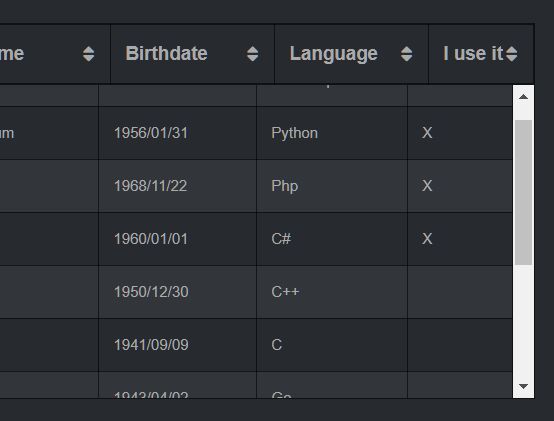 | | |
| --- | --- |
| File Size: | 5.8 KB |
| Views Total: | 1244 |
| Last Update: | |
| Publish Date: | |
| Official Website: | Go to website |
| License: | MIT |
| | |
tableScroller is a tiny jQuery table generator plugin that dynamically generates a responsive, sortable and scrollable HTML table from an array of JS objects or JSON data.
It provides a simple and user-friendly solution to represent large tabular data on the web.
How to use it:
1. Download and place the JavaScript library tableScroller.js after loading jQuery.
2. Define your tabular data in a JavaScript array as follows:
3. Insert the table header and an empty tbody to your HTML table.
data-prop: key prop
data-way: sort data in either ascending or descending order
4. Populate the tbody with your data and specify the max height of the HTML table. That's it.
5. Customize the sort indicator displayed in the th cells.
---
This awesome jQuery plugin is developed by PhilippeMarcMeyer. For more Advanced Usages, please check the demo page or visit the official website.
source : jquery.net