This time I will share jQuery Plugin and tutorial about jQuery Based Bootstrap Popover Enhancement Plugin – Bootstrap Popover X, hope it will help you in programming stack.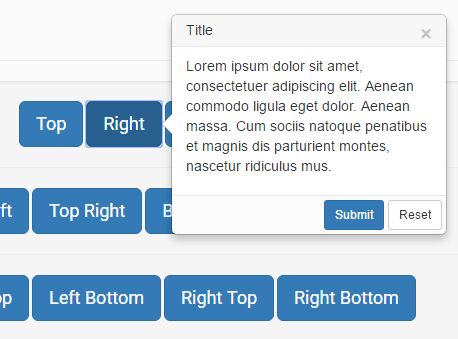 | | |
| --- | --- |
| File Size: | 27.5 KB |
| Views Total: | 10209 |
| Last Update: | |
| Publish Date: | |
| Official Website: | Go to website |
| License: | MIT |
| | |
A simple, lightweight jQuery plugin that enhance the default Bootstrap popover component with some additional and useful features.
Key Features:
Modal style popovers.
Smart auto position.
Supports more placements.
Supports Bootstrap contextual color styles: default, primary, info, success, danger, and warning.
Close button.
Custom trigger events: hover, click and focus.
Compatible with Bootstrap 3 & 4.
How to use it:
1. To use this plugin, makes sure you have jQuery library and Bootstrap framework installed in your web project.
2. Include the Bootstrap Popover X plugin's JavaScript and files in the page.
3. Create the Bootstrap Popover X content as follow:
4. Create a trigger button to toggle the popover.
5. Override the default styles of the popover. Accepted CSS classes:
popover-default
popover-primary
popover-info
popover-success
popover-danger
popover-warning
6. Specify where to position the popover using data-placement attribute. Accepted position classes:
right
left
top
bottom
top top-left
top top-right
bottom bottom-left
bottom bottom-right
left left-top
left left-bottom
right right-top
right right-bottom
auto
auto-top
auto-right
auto-bottom
auto-left
horizontal
vertical
7. By default the popover will be opened by click on the trigger button. You're able to change the default trigger event in the data-trigger attribute as this:
Changelog:
v1.4.8 (2020-01-29)
v1.4.7 (2018-09-14)
Enhance bootstrap 4 arrow positioning via CSS class is-bs4 on popover container.
New dialogCss property to allow setting dialog CSS style attributes before load.
v1.4.5 (2017-09-08)
Enhancements to support Bootstrap v4.x framework
v1.4.4 (2017-09-07)
Code enhancements for jQuery 3.x
v1.4.3 (2017-01-09)
Correct popover marker div rendering
More correct styles for popover-x positioning behind BS navbar
---
This awesome jQuery plugin is developed by kartik-v. For more Advanced Usages, please check the demo page or visit the official website.
source : jquery.net