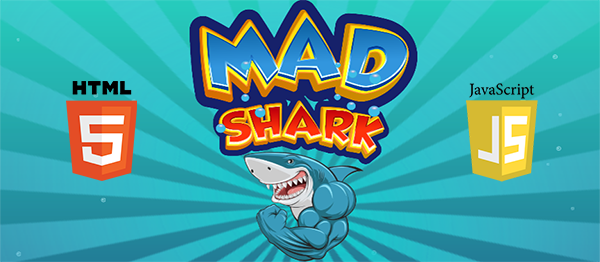 Project: Mad Shark Game In HTML5 and Javascript
-To download mad shark game project for free(Scroll Down)
This popular is now available in HTML version. Now this game is available in high graphics game. This whole game uses javascript and their corresponding libraries. Jquery script is also in this project. To run it use VS Code since it supports good live server.
Gameplay
To run this game you can use VS Code editor for good liver server support. Download and open this project in your code editor. Then there is an index.html file. Run that file in live server. Use Google Chrome or FireFox for better user experience. Once you open the game, you can see the home screen with game menus in it. You can select the game mode you want to play. You cannot customize the gameplay settings according to your preferences in this game as it comes with its default settings.
There are eight lives in this game. Here in this game, you need clear your moving areas. Like you need to eat those small fishes to clear and also get game points. Also, you need to dodge the enemy bullets and missiles so that you don't lose your life. Moving in through the game you will get power-ups like lives, speed shark and bullets for firing. Use your arrow keys to move. There is a firing button at the bottom right. Click that button when you get powerups so that you can destroy anything around. The bomb powerup will directly clear all the things around you.
In whole this project uses a lot of javascript and javascript libraries. If you can add some more levels then you can surely enhance your javascript skills with its libraries. This Game in Javascript with source code is free to download. Use for educational purpose only!
Project Demo
DOWNLOAD MAD SHARK GAME IN HTML5 AND JAVASCRIPT WITH SOURCE CODE FOR FREE: CLICK THE BUTTON BELOW
Thank you very much for your visiting in our simple blog, share tutorial and programming coding. Hope this blog will help you in fixing your coding problem.
source : code-projects.org