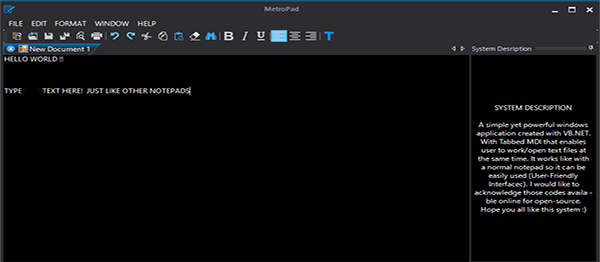 Project : Notepad (Metro-Styled)
– To download it for free (scroll down)
This computer application is developed using VB.NET. User can work/open document files at the same time with enabled tabbed MDI. It can be used easily because it works just like other normal notepads. User can save their text anywhere and decorate text in any styles. This is a mini project for the VB.NET beginners. The system is easy to operate and understand by the users.
Project Demo:
DOWNLOAD NOTEPAD IN VB.NET WITH SOURCE CODE : CLICK THE BUTTON BELOW
Thank you very much for your visiting in our simple blog, share tutorial and programming coding. Hope this blog will help you in fixing your coding problem.
source : code-projects.org