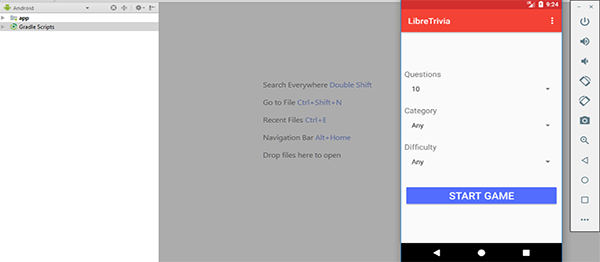 Project: – Online Quiz Master Game
– To download it for free(Scroll down)
Online quiz master game is a simple question and answer game designed in Android Studio. Here the user can play the game by selecting number questions and field of questions to be asked with different difficulty levels. When you download this project remember you must have updated SDK version up to 27.0 or greater and obviously Studio version 3.0.1 or the Canary (click to check the version) version. Or else your code might come up with plugin errors.
Take a coding experience by modifying this android game and create a simple version of your own. You can download the project and can modify it. As per your mode of interest, you can add different more questions for a better gaming experience. Moreover, this project can be submitted as final year as well as a minified project for your assignment.
Project Demo
DOWNLOAD ONLINE QUIZ MASTER GAME IN ANDROID WITH SOURCE CODE: CLICK THE BUTTON BELOW
Thank you very much for your visiting in our simple blog, share tutorial and programming coding. Hope this blog will help you in fixing your coding problem.
source : code-projects.org