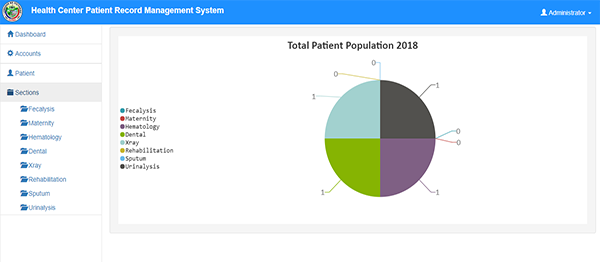 Project: Patient Record Management System
– To download patient record management system project for free (scroll down)
Features:
Login system
Admin panel
Add, Modify, View and Delete Patient Records
Record representation in Graphs
Fecalysis section
Maternity section
Hematology section
Dental section
Xray section
Rehabilitation section
Sputum section
Urinalysis section
This patient record management system is designed to provide the facility to set all the patient records. At first, the user has to pass through login system to get access, then the user can view the list of individual patient and manage request confirmations. From Admin panel, the admin can add, view, edit and delete patient record, Add users and admins to the system and check records of each and every section(Fecalysis, Maternity, Hematology, Dental, Xray, Rehabilitation, Sputum, Urinalysis) This system makes easier to the user for managing patients record as it is not time-consuming. This project is not difficult to operate and understood by the users.
How To Run?
You'll need XAMP Server or WAMP Server. Put the file inside "c:/wamp/www/" or "c:/xampp/htdocs/". Go To "localhost/phpmyadmin" in any browser and create Database (name according to SQL file).In that Database, Import the SQL file and finally go to URL: "http://localhost/file_name/phpfilename"
Don't Forget To create a database and import SQL file to run.
USERNAME AND PASSWORD ARE PROVIDED IN "Readme.txt" FILE INSIDE PROJECT FOLDER
Project Demo
DOWNLOAD PATIENT RECORD MANAGEMENT SYSTEM IN PHP WITH SOURCE CODE: CLICK THE BUTTON BELOW
Thank you very much for your visiting in our simple blog, share tutorial and programming coding. Hope this blog will help you in fixing your coding problem.
source : code-projects.org