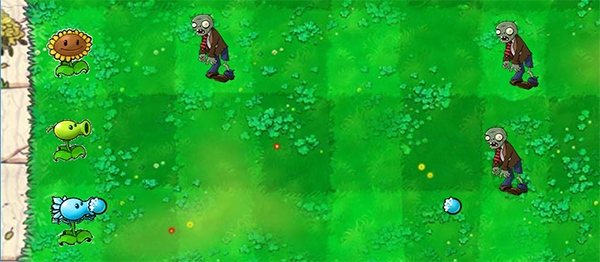 Project: Plant vs Zombies Game In Java
-To download plant versus zombies game project for free(Scroll Down)
Plant vs zombies game is a tower defense game. This game is now available in Java Netbeans. This whole game or the project uses java and some NetBeans component to make it look astonishing. Play the game and enjoy it.
About the project
In this game, players place different types of plants and fungi, each with their own unique offensive or defensive capabilities in a house in order to stop the zombies. The playing field has 5 to 6 horizontal lanes, and with rare exceptions, a zombie will only move towards the player's house along one lane. Most plants can only attack or defend against zombies in the lane they are in. In later levels, players can purchase upgrades with different offensive and defensive abilities. The game uses several different level types and layouts. The game starts out in a front yard and progresses to nighttime levels, where the gameplay is more challenging without any replenishing sun unless specific plants are used.
As whole this game is interesting and fun to play. You can download and modify this project as your own way.
DOWNLOAD PLANT VS ZOMBIES GAME IN JAVA WITH SOURCE CODE FOR FREE: CLICK THE BUTTON BELOW
Thank you very much for your visiting in our simple blog, share tutorial and programming coding. Hope this blog will help you in fixing your coding problem.
source : code-projects.org