This time I will share jQuery Plugin and tutorial about Tiny jQuery Based RSS Reader With Custom Template – RSS.js, hope it will help you in programming stack.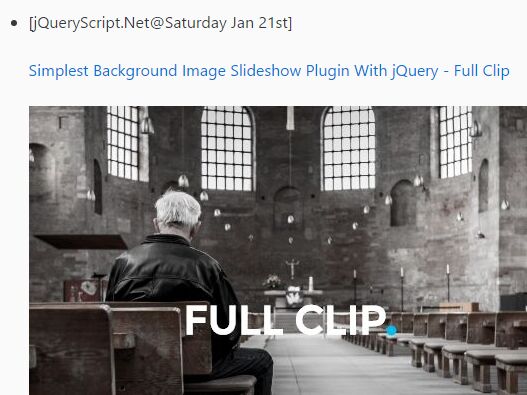 | | |
| --- | --- |
| File Size: | 83.1 KB |
| Views Total: | 8133 |
| Last Update: | |
| Publish Date: | |
| Official Website: | Go to website |
| License: | MIT |
| | |
A lightweight, customizable jQuery RSS reader which has the ability to parse and display RSS/ATOM feeds with custom date rendering templates on the webpage.
Currently it works a jQuery wrapper for the vanilla-rss library. It also supports aggregating items from multiple RSS feeds since v4.2.0.
How to use it:
1. Link to the required JavaScript files as follow:
2. Include the OPTIONAL moment.js library if you want to use a custom data format:
3. Create an empty DIV container for the RSS reader.
4. Initialize the RSS reader and pass the RSS url as the first parameter to the rss function.
5. Predefined tokes for templating:
url: the url to the post
author: the author of the post
date: the publishing date
title: the title of the post
body: the complete content of the post
shortBody: the shortened content of the post
bodyPlain: the complete content of the post without html
shortBodyPlain: the shortened content of the post without html
teaserImage: the first image in the post's body
teaserImageUrl: the url of the first image in the post's body
index: the index of the current entry
totalEntries: the total count of the entries
feed: contains high level information of the feed (e.g. title of the website)
6. Limit the number of entries to fetch.
7. Override the default RSS parser service. Default: http://www.feedrapp.info/.
8. Render the RSS feeds on the page and execute a function after rendering.
9. Full configuration options and callback functions.
10. Available event listeners.
Changelog:
v4.3.0 (2019-11-17)
Add support for sorting entries
v4.2.0 (2019-11-17)
Add support for multiple feed URLs
v4.1.0 (2019-11-07)
Add support for custom feed encoding
v4.0.0 (2019-10-25)
Replace business logic with Vanilla RSS
Removed effects.
v3.3.1 (2019-09-29)
Fixed demo page
Added more options
---
This awesome jQuery plugin is developed by sdepold. For more Advanced Usages, please check the demo page or visit the official website.
source : jquery.net